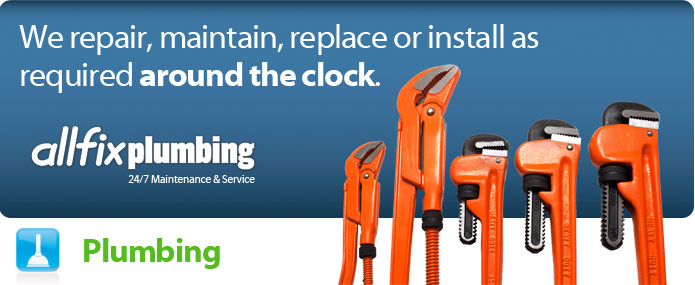 Plumbing Maintenance
Our plumbing includes installations and repairs. We repair, maintain, replace or install as required. Save by ringing Allfix to install your Dishwasher, Water Filters and Heat Pumps. You get a free quote and payment is required when the work is completed to your satisfaction.

---
We repair
dripping taps
sink blockages
burst pipes
bathrooms
hot water systems
Remember: We work round the clock, so if you need an Emergency Plumber we're there pronto.

---
Tempering Valves
Tempering valves blend hot and cold water to deliver mixed water at a constant temperature. They incorporate a temperature sensitive element which expands and contracts depending on the temperature of the water flowing across it. This action of the element in turn moves a piston which shuttles between the hot and cold ports. In doing so the valve maintains an essentially constant outlet temperature, and thus reduces the risk of scalding accidents.

---
Water Saving Devices
Water conservation is important because we all need usable water in our lifetime. If our attitudes about water conservation turn bad, it could cause issues for us in the future. There are various ways of conserving water -
Install a low flow toilet and shower head
Reuse grey water from kitchen and bathroom
Fix leaking taps and sprinklers
Turn off taps while brushing your teeth
Take shorter showers
Gutters & Downpipe Replacement
Allfix Plumbing fixes or replaces guttering to prevent leaks and damage. Gutters and downpipes prevent water damage to walls and foundations. Since they're out of reach, maintenance and repair is often neglected. Damage may be minor and easily repaired, often with a squirt of silicone. If damage is extensive, we may need install a new gutter system.